Are you seeing something like this in one of your rooms and can't stand it? Look no further! Our easy How-To guide shows you how to fix small wall cracks and make your room go back to tip-top shape in no time.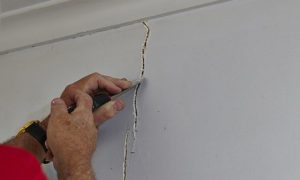 Everyone has started somewhere being a 'newbie', so don't feel ashamed or embarrassed if its your first time for fixing anything plastering related, we all start somewhere! Anyway, by the time you've finished reading your blog post, you'll be wandering why you hadn't done these small jobs around the house anytime sooner! We've looked at a load of different resources in how to give our audience the best type of advice when it comes to fixing wall cracks and here is a great video outlining how to do so in the most effective manner.
See how easy that was?!
Clean the surface out first, apply some scrim tape, mix up some plaster in a small bucket with water and British Gypsum Plaster and apply carefully with a trowel.
Let the plaster set into the crack for a few days as to let it fully dry out, then you'll see it turn a pinky brown colour. From here on out, it's plain-sailing all the way and you'll be good to start painting over the plaster to match with the rest of the existing wall.
Equipment For Fixing Wall Cracks:
Here's a list of all the equipment that was used within the tutorial:
Screwdriver
Trowel
Sandblock
Sanding paper
Drywall Compound
Bucket / Holder
Masking Tape
Paint Brush
Primer Paint
Wall (matching colour to existing wall) paint
Although not all bumps, damages and cracks to walls are the same, from the video provided you can get an idea of how to fix any damaged walls with a simple step by step procedure. If the damage to the wall is much bigger, this could require a completely different type of repair and therefore we advise you to seek your nearest plasterer / drywall contractor that might be willing to come and offer a fixed quote. Beware, some companies charge a call out fee, so it might be sensible to call and ask them if they offer free quotations before calling them out to quote on any job you may need done.
* Many thanks to MonkeySee who have provided the guide for the 'How To' video.